!--CA 2019-10-09_07_12 AT /0/15881968647997/1143832543971681/f Facebook Pixel Code -->
Plumbing - Kitchen Sink
Considerations: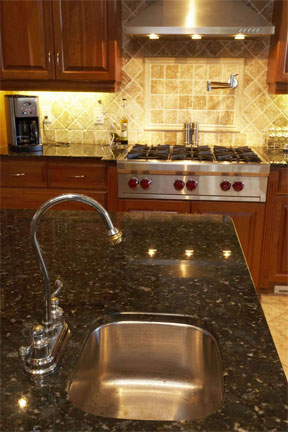 Depth – you can purchase a kitchen sink for less money, but beware that it may only be 6" or 7" deep. The first time you try to put water in a pasta pot or wash a large pan and find that it doesn't fit, you will be disappointed! 8" is standard, but most people find 10" preferable.
Mount type:

Self rimming or top mount sinks have a lip where the sink sits on top of the countertop
Under mount sinks are adhered to the underside of most countertops (except laminate).
Integrated sinks are made from the same solid surface material as the countertop.
Apron front or farm sinks have the front of the sink is open and has a lowered exposed front

Materials:

The most durable stainless steel is 18 gauge, followed by 20 gauge and 22 gauge which is the most likely to dent, scratch or have a hole punctured.
Considerations need to be made for enamel on cast iron sinks due to their weight. These sinks require substantial countertops like granite. Beware that these sinks are heavy and durable, but the enamel can chip revealing the black cast iron beneath the finish.
Solid surface countertops have an advantage in that they are seamless and integrated into the countertop. These sinks are more expensive than stainless sinks and require professional installation.
Quartz composite sinks are the same material all the way through and have a realistic granite look. This choice is good if you are looking for a sink that is stain and scratch resistant.
Options: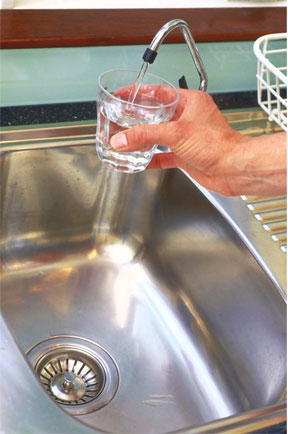 When buying a prefabricated sink or designing a solid surface countertop be sure to determine how many holes you will need in the sink or drilled into the countertop. If you have an undermount or integrated sink you will have holes drilled into your countertop, if you have a top mounted sink, you will have holes already determined in your sink. Holes are made for the faucet, soap dispensers, hand sprayers, filtered water or instant hot water dispensers.
Design Options:
Finishes: Colors

Stainless steel sinks come in one color only and usually have a high sheen.
Solid surface countertops can are usually available in several shades of white and off-white to compliment the countertop color.
Enamel coated cast iron sinks come in many different colors from white to black with bold and bright colors in between.

Shape – you can find a variety of sink configurations including: a large single bowl rectangle, equal size double bowls, one side larger and one side smaller typically with the garbage disposal on the smaller side, three bowl sinks typically with two large bowls on either side of a small center bowl, matching square bowls configured for corner installations and small round or square sinks separate from the main sink for prep use or use as a vegetable sink.
Maintenance:
Stainless steel shows scratches but is easy to clean
Enamel coated cast iron's surface is glossy and is easy to clean. Chips can be repaired if necessary.
Solid surface sinks are extremely easy to clean because they are "rimless" and made into the countertops. There is no line to trap dirt between the sink and the countertop. There is no need for concerns about chipping because the product is the same color throughout.