!--CA 2019-10-09_07_12 AT /0/15881968647997/1143832543971681/f Facebook Pixel Code -->
Plumbing - Kitchen Faucets
Considerations: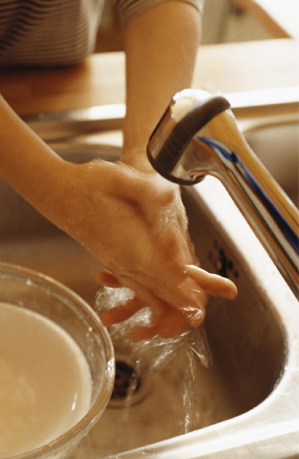 Parts included

Different manufacturers include different parts when selling faucets. Some manufacturers like to give the customer the freedom to mix and match options for a custom look. When price shopping, be sure to know what's included before thinking you are getting a special deal only to find out that you have to purchase the handles and the drain in addition to the spout.

Sink Compatibility

If you are replacing a faucet or have already chosen a sink that has predetermined holes, be sure the number of holes in the sink matches the number of holes required for your faucet.
If you want the sprayer, soap dispenser or water filter be sure to choose a faucet that offers these additional items in the same or coordinating finish.

Warranty

Some warranties include that the original receipt must be presented. Keep as much information as you can in case parts need to be replaced.
Options:
Spout type and height

Spout types available include: standard, arched, pull out or pull down sprayer, bridge, deck or wall mount.
The height of the spout should be high enough to get a large pot under in order to fill with water or to clean. The higher the arch, the easier it is to fill a pot in a shallow sink.
When shopping for a spout with a pull out sprayer, choose a hose type that won't kink. Stainless steel hoses tend to kink less, but make more noise when being retracted. Spring loaded models will help avoid the noise from the hose.
Some faucets with a pull out sprayer have a button to allow you to change the spray from a continuous stream to a shower like spray. Determine whether you prefer to be able to change back and forth between sprays with the touch of a button or if you don't mind having to turn off the water completely to "reset" the water stream.
Restaurant style faucets are now available that feature overhead spouts as high as 27" and that rotate 140 degrees for easy maneuverability. They also include 30" pull out hoses for maximum reach and features like infinite spray and volume control options.

Handle Type

To determine what's best for you, think about the way you like to cook. Faucets are available with separate handles attached to the faucet, handles that are completely separate from the faucet and one piece faucets that have an integrated handle and spout. If you seem to always have something in your hands while at the sink, decide if you are able to manipulate the handles better if they are separate or together.
You may prefer no handle at all! One company has a faucet that is motion censored and turns on with no handles! This is great for washing your hands after handling raw meats.

Hot water dispensers

One faucet that often gets overlooked is the instant hot water dispenser. These are definitely worth the extra hole and plumbing. They are great for instant hot tea, hot chocolate, oatmeal, mac and cheese and recipes that require hot or boiling water.

Water Filtration

With today's focus on health, more and more families are adding water filtration to their faucets or using separate faucets that are designed only for filtered water.
Design Options:
Style

The style of your faucet needs to compliment the style of your kitchen. Faucets are available in sleek, clean lined styles as well as traditional styles and even rustic styles.
Single handle faucets tend to be more practical, but two handle faucets give you more options for handle design.
Single handle faucets are the most popular today because of the advantage of the increased spray volume over typical vegetable sprayers found separately on the side of the sink.

Finishes

Faucets are available in more finishes than ever now. A lot of people try to match the faucet color to the color of the sink. Look around the room and make sure the color of the faucet compliments the other finishes in the room such as appliances, cabinet hardware, lighting or decorative tile accents.

Pot fillers

If the faucet at the sink does not allow you to fill large pots to boil water, consider a pot filler near the stove. These faucets are a some what of a luxury item that makes adding water to pots on the stove a simple task. At least you only have to carry those heavy pots filled with water one way across the kitchen instead of both!
Maintenance:
Material Types

Some material types are more difficult to maintain than others! Polished faucets are beautiful, but require cleaning more often because of their sheen. Water spots tend to show up more on polished finishes.
Units with 2 handles are more difficult to clean because you have to clean in between the handles.
Most faucets can be cleaned with mild soap and water.
Gold plated faucets should only be cleaned with warm water and wiped dry with a soft cloth to avoid constantly seeing water deposits.
After each use, it's best to wipe down the faucet with a dry cloth to remove minerals and water spots.
Do not use harsh chemicals or cleaners that contain ammonia or bleach because they can damage the finish of the facuet.
To remove hard water deposits and soap scum, use a 50/50 mix of vinegar and water.