!--CA 2019-10-09_07_12 AT /0/15881968647997/1143832543971681/f Facebook Pixel Code -->
Cabinet Considerations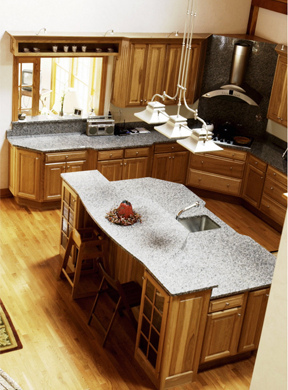 Space planning is very important for both the kitchen and the bath. Spend an adequate amount of time making sure that all of your needs will be met before the order is placed. It's so much easier to spend a little more time planning on the front end than having regrets when the project is complete!
If you find yourself constantly searching for items in the kitchen or bath, spend some time reviewing the storage and organization options available for cabinetry. Again, a little extra time planning on the front end can make your life a lot easier when the project is complete.
Durability and construction of the cabinets are an important consideration. If your cabinets are going to see a lot of use, it is important to buy cabinets that are made with quality hardware, quality interiors and door panels.
If the need for replacement comes up with cabinet parts that are stained and painted, be prepared that the color might not be a perfect match after time has passed from the original purchase.
If you choose a cabinet with a dark stain, adequate lighting needs to be taken into consideration to compensate for the darkness of the cabinets.
Think about resale. Don't let it be your only deciding factor, but cabinets are not easy and inexpensive to replace so the style of the cabinets needs to compliment the style of the rest of the house.