Plumbing - Tubs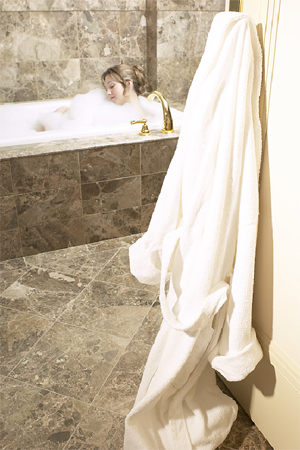 Almost every home has a bathtub, yet it's not a fixture that you think of having a lot of options when choosing. When making the decision as to which bathtub to choose, most people don't realize that their choice will remain in the home on average for 50 years! So, choose carefully, depending on your needs. A tub can be just a place to bathe or a spa like haven.
Considerations:
Comfort

Petit people will not find themselves very comfortable in a deep and long tub. Consider the size of the person in relation to the size of the tub.
Taller, larger people will be more comfortable with a tub that has extra width or is a deeper model so they can stretch out enough to relax.
For people with aching legs, a standard tub that is 14"-17" deep is satisfactory, however; people with lower back pain need their bodies totally immersed, so a larger tub is needed. Some models have contoured backs and built in lumbar support.
Don't be afraid to visit a showroom and lie down in several bathtubs to find out which is most comfortable to you. It's an important, long term decision. You wouldn't buy a car without test driving it, would you? More than likely, your bathtub will be with you far longer than your car.

Space

Bathtubs are generally installed long before the drywall or flooring. This is because the installation of the drainage plumbing and the drywall is much easier with the tub already set in place.
Since the tub is generally the largest item in the room, often the room is designed around the placement of the tub.
When remodeling, be sure to measure your space before beginning the selection process as well as the size of the doors the new bathtub will have to fit through in order to be installed in the bathroom.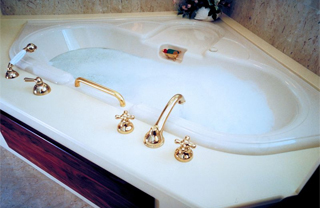 Options:
Installation type:

3 wall alcove

In this installation, the tub fits into a space with walls on one side and both ends. The standard lengths available are 5', 5.5' and 6' with multiple widths from 30" to more than 48". The surrounding walls can be made of the same material as the tub or the surrounding walls can be tiled.

Drop In

Drop in tubs have a finished rim and are designed to have a custom deck or surround, usually made from tile or slab or natural stone. These can be installed in corners, peninsulas, islands, recesses or sunken into the floor.

Undermount

In an undermount installation the tub top is made to look seamless much like the installation of an undermount sink

Freestanding

These tubs are finished on all sides and don't require walls to be set into. The tub is typically finished with a decorative base or decorative feet. A clay foot tub is an example of a free standing tub.

Corner

Most corner baths are 5 sided with a triangular basin designed to fit in the corner of the room. Because of the corner design, most corner tubs accommodate 2 people.
Materials

Gel Coated Fiberglass

This is one the least expensive bathtubs available. They are manufactured by layering fiberglass and finished with a spray coat of polyester resin.

Acrylic

This material is very resistant to cracking and chipping. They are relatively inexpensive and are lightweight.

Cultured Marble

Cultured marble is made by mixing limestone and polyester resin and finished with a gel coat. These tubs are considered an upgrade to acrylic, but a less expensive alternative to cast iron.

Ceramic Tile

Ceramic tile tubs are made on site by forms made from wood studs covered with cement board. Ceramic tile is then set on top of the cement board in the same manner it is installed on the floor. These are difficult to keep clean and can water can leak through the grout lines.

Porcelain on Enameled steel

This tub is the leader in the number of tubs sold as replacements and in new home construction. Porcelain on steel tubs are made from a stamped piece of solid steel that is finished with a layer of porcelain that is very durable.

Cast Iron

These are some of the most expensive bathtubs on the market. These are so popular because they are almost impossible to dent or scratch and are extremely resistant to chemicals. Be sure that the floor is able to accommodate the weight of a cast iron tub.

Solid Surface

Solid surface bathtubs are made to look like natural stone tubs, but with better thermal properties. In face, these tubs maintain tub temperatures for longer periods of time than most other materials.

Copper

Decorative freestanding tubs can also be made out of copper. Some are available with variable speed air blowers and air heated system controlled by a button or remote control.

Marble / Travertine

Bathtubs made of natural stone like marble and travertine are beautiful pieces of art to bathe in. They are not very practical because they can be etched by hard water and can crack if exposed to a thermal shock. They are also only available in soaker style without jets or other bells and whistles.

Drain placement

The position of the drain in a remodeling situation is determined by the placement of the existing pipes. The options for drain placement are: right, left and center

Comfort Features – some manufacturers offer tubs with more than just water and jets

Chromatherapy is a popular holistic method that uses the power of color to create emotional impact.
Effervescence is the experience of thousands of tiny bubbles
Hydrotherapy is the use of water in the treatment of disease. Hydrothermal therapy additionally uses its temperature effects, as in hot baths, saunas, wraps, etc.

Accessories

Grab bars are available pre-installed on some tubs. However, if the tub does not come with pre-installed grab bars, they can be installed on the walls near the tub for assistance getting in and out of the tub.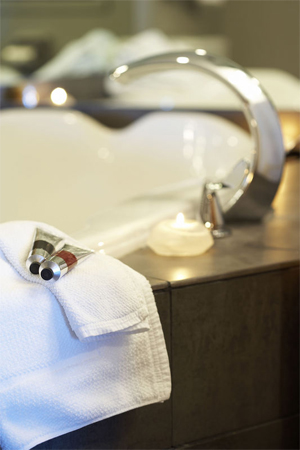 Design Options:
Colors

Tubs are made in the same standard colors that coordinate with sinks, toilets and showers.

Shape

Round
Oval
Square
Rectangle
Corner

Whirlpool or soaker

Soaker tubs are bathtubs that do not have a whirlpool are jets.
Some tubs have air jets or water jets that produce a whirlpool effect for added relaxation.

Finish Trim

Some manufacturers allow you to choose the color and finish of the drain, jet rings and grab bars.

Deck area

Keep in mind the amount of deck area to display soaps, shampoo and decorative items like candles.
If the deck area is too small for soaps and shampoos or to display decorative items, consider a recessed wall niche to store these items.
Maintenance:
After each use, the tub will be easier to clean in the future if it is wiped down as the water is draining. Using the washcloth from the bath makes it easy!
Using a clear liquid soap or shower gel rather than soap will help eliminate soap scum build up.
Take care of your hands before cleaning the tub with harsh chemicals by wearing a pair of gloves
If using harsh smelling cleaners, open the window or turn on the exhaust fan. You don't want to breathe any more of those chemicals in than you have to!
First, attack the soap scum ring with cleaner. Apply the cleaner and let it sit for a few minutes to attack the germs.
After a few minutes, use the cleaner on the remainder of the tub and rinse.
For stains on acrylic tubs, use a product called Gel-Gloss®, also good for polishing and finishing.