!--CA 2019-10-09_07_12 AT /0/15881968647997/1143832543971681/f Facebook Pixel Code -->
Plumbing - Bath Sinks
Considerations: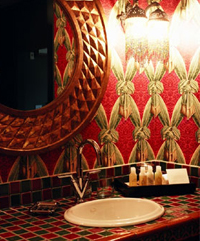 Faucet holes

When remodeling, be sure to match the number of faucet holes to the number of holes in the sink. Proportion of the faucet size and sink size is critical. You don't want a tiny faucet on an oversized bowl or vice-versa.
When buying a prefabricated sink or designing a solid surface countertop be sure to determine how many holes you will need in the sink or drilled into the countertop. If you have an undermount or integrated sink you will have holes drilled into your countertop, if you have a top mounted sink, you will have holes already determined in your sink.

Space

Before choosing a sink, determine how much space you will have to use. Make sure the sink will fit into the cabinet base, leave enough room to install the faucet and leave you enough countertop space for your bathroom products.
In a small bath that has limited storage; a sink mounted in a cabinet base will offer more storage room.
If two people get ready for the day in the same bathroom, consider an additional sink in the bathroom if you have the space.
Options:
Installation type:

Pedestal sinks are helpful choices when trying to make an area appear larger and more spacious. Pedestals offer a variety of bowl and pedestal shapes so that you can choose a look that is appropriate for your style. Some styles have space considerations for soap and other small items. The basin and the base are typically made out of the same material. There are many shapes, styles and materials to choose from.
Wall Mounted sinks are a great option for specific height placement. They are also a good option if you have a small space like a powder room where you don't need a lot of storage or countertop space. They can be installed at any height on a flat wall or in the corner and are often offered with an optional towel bar.
Metal Framed sinks simply have a metal rim around the outer edge in order to create a water tight seal between the sink and the countertop.
Countertop lavatories are designed for use with vanities and counters. They come in a variety of shapes, sizes and colors.
Self rimming or top mount sinks have a lip where the sink sits on top of the countertop. This is the easiest type to install for do it yourself projects. The lip is usually rolled and placed directly over the countertop openings. These sinks also are available in a variety of shapes, colors and materials.
Under mount or undercounter sinks are adhered to the underside of most countertops (except laminate) and furniture pieces. These sinks give a clean look because only the basin is exposed. Because there is no lip on the countertop, there are more options for faucet placement. This style is increasingly popular because of the popularity of solid surface countertops. These are available in a variety of shapes, sizes and colors.
Integrated sinks are made from the same solid surface material as the countertop.
Vessels are identified as sinks that sit above the counter or furniture piece. Countertops that vessels are mounted in are typically lower than typical countertops because the height that the vessel sits on top of the countertop. The inside and the outside are finished materials usually made from: stainless steel, glass, cast iron, vitreous china or natural stone. Faucets that work best with these sinks are wall mounted or tall countertop mounted in order to provide adequate clearance above the rim of the sink. These sinks can be installed in a wall mount bracket. Some can be installed in self rimming or undermount applications. Some vessels come with predrilled holes so the faucets can be drilled directly onto the vessel.
Tile in sinks are designed specifically for countertops with tile. The installation looks similar to under counter sinks, but are designed specifically to fit flush with tile countertops. Typically, there are no faucet holes drilled in these sinks.

Materials

Porcelain sinks are the most common type of bathroom sinks. White is the most common color although other colors are available for a higher price.
Fireclay is similar to vitreous china. It is ceramic based, smooth, non-porous, rust resistant, fade resistant and will not discolor. It can be used for decorative sinks with surface patterns and textures.
Vitreous china is created from a clay base and is coated with a glazed and then fired at high heat to bond the clay and the glaze together. These sinks are durable with a finish that is hard, non porous and has either a satin or glossy finish. Decorative patterns look great on these sinks because the glaze patterns can be transferred and fused to the surface.
Glass sinks are a popular choice for their design versatility due to their translucent appearance. They are available in a variety of sizes, shapes and colors. Often, these sinks have a hand molded shape and design.
Cast iron sinks are the best choice to resist chipping because of the enamel layer and glossy finish. The coating is resistant to most types of damage and available in many colors.
Natural stone is a warm and rich choice for bathroom sinks. Common materials used to make the sinks are: marble, granite, travertine and concrete.
Stainless steel sinks are not only popular for kitchens, but are gaining popularity in the bath. Like kitchen sinks, they are durable and easy to clean. They are made from either 18 or 20 gauge steel.
Solid surface countertops have an advantage in that they are seamless and integrated into the countertop. These sinks require professional installation.
Quartz composite sinks are the same material all the way through and have a realistic granite look. This choice is good if you are looking for a sink that is stain and scratch resistant.
Wood sinks are the newest and most expensive type of sink.
Design Options:
Style

Since bathrooms are typically the smallest rooms in the house, the sink is a very important selection. You typically don't change these too often so use this as a design element to show off your personality. However, don't go too crazy. Be sure it is something you can live with for a long period of time.

Shape

You can find a variety of sink shapes including: rectangle, round, oval, square and custom shaped.

Detail

Artistic detail such as handpainting, etching and custom blown glass shapes can make your sink a design statement rather than just a place to brush your teeth!
Maintenance:
Sinks are, in general easy to clean, but those that are not mounted to the countertop are easiest to clean.
Solid surface sinks are the easiest to clean because they are "rimless" and made into the countertops. There is no line to trap dirt between the sink and the countertop.
Sinks should be rinsed daily after each use. Stainless steel sinks need to be dried after use to avoid seeing water spots.
Darker colors reveal soap scum more readily than light colors if not rinsed after every use.
No harsh cleaners or chemicals should be used to clean bathroom sinks. Only mild cleaners like soap and water.